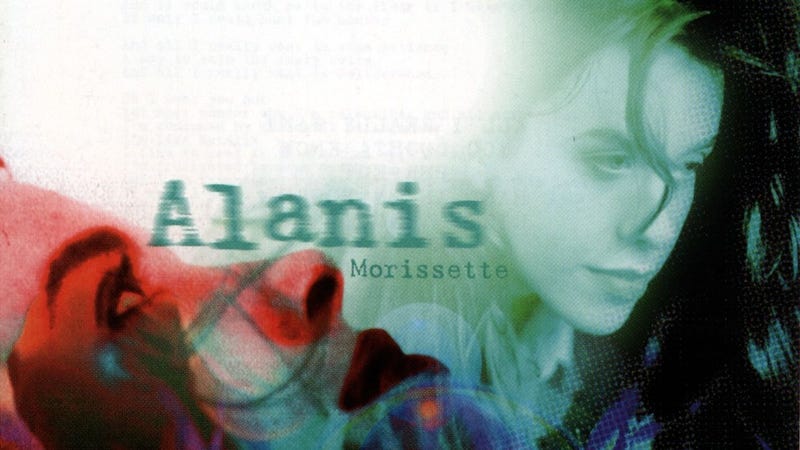 One of my favorite albums of 1995, was Alanis Morissette's Jagged Little Pill. In fact, I dare say that I listened to that cassette tape over and over again on a weekly basis. Yes that's right. I said cassette. Not a cd. Not my iPad. A cassette tape.
Yes I know that probably ages me. Oh well. The musical, which premiered last Summer at the American Repertory Theatre, features a book by Academy Award winner Diablo Cody (Juno), and direction by Tony Award winner Diana Paulus (Pippin,
Waitress
).
So what is the show all about? Well, according to a BuzzFeed article on the Cambridge production, "Jagged Little Pill features a woman, Mary Jane Healy, in a sexless marriage and secretly addicted to painkillers. Her daughter, Frankie, is adopted and Black and has to deal with her mother's "colorblind" world view. Frankie also explores her queerness with her genderqueer best friend, Jo. The show also features a plot about Mary Jane's son, Nick, whose best friend is accused of raping one of Frankie's best friends."
Well that's certainly different. Will it be for everybody? Who knows? Let's just say that Disney doesn't haven't anything to worry about. The thing it has going for it, well besides amazing music, is that it is an original story. For that alone it has a leg up on other shows. Here's hoping it's a hit. As of now, no theatre or performance dates have been announced. Be sure to check this website for further updates. Until next time theatre fans.
JWB
Applause Theatre and Entertainment Service, Inc.
165 West 46th Street
Suite 1107
New York, NY 10036
212-307-7050
or 1-800-451-9930
http://www.applause-tickets.com/
Facebook:
Applause Theater and Entertainment Service