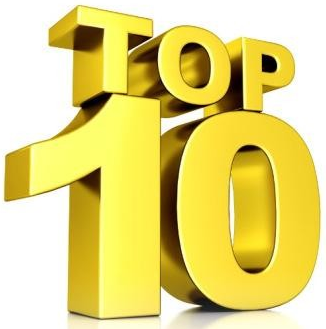 Where oh where has the time gone? Can you believe that the year is almost over? I sure can't. Which brings me to today's blog. Every year, numerous publications like Time Magazine and the New York Times, publish their year end lists of their favorite theatre shows.
Therefore, I figured I would share with you my favorite productions from this year. Also note that this list is not limited to only shows that opened this year, but simply a list of ones that I have seen in 2019. Enjoy!
Ain't Too Proud - Let me just start off by saying that I am a huge Temptations fan. HUGE! Which is why it will surprise you, that I was a little skeptical when the show was first announced.
The truth is, when it comes to jukebox musical's they are usually hit or miss. For every Mamma Mia and Rock of Ages, there is an Escape To Margaritaville or The Cher Show. Well of course as it turns out, I had nothing to worry about. It was amazing.
Beetlejuice - Now I might be over exaggerating, but I swear I am probably the only person who has never seen Beetlejuce, Well at least that's how I felt while sitting in the Wintergarden Theatre a few months ago. I mean clearly everyone that was there that evening, were huge fans of the film. Thankfully not seeing the film, worked to my advantage. I loved it. In fact, I've seen it twice since that night.
Tootsie - I just have to say it. Tootsie is the greatest film comedy of all time. And the Broadway musical? I have not laughed that much at at Broadway show in years. So why is it closing in seven days? I haven't a clue.
Hadestown - I'll be honest. I spent the first six month's of the shows run not wanting to see it. Why you ask? Well the truth is, I tend to stay away from shows that have so much hype. That way I'm not disappointed when it doesn't live up to my expectations. Long story short, I saw the show in October. Now besides being worried that I might not enjoy it, I was literally soaked from the monsoon that took over New York that day. So basically the last thing I wanted to do was sit in a theatre for two and half hours. Now I know what you're thinking? Was I right to be a little hesitant? The answer is no. It is hands down of the most enjoyable nights in the theatre that I have had in years. There I admit it. I was wrong.
Rock of Ages
- This past July I saw this show. It was my seventh time. Enough said.
A Christmas Carol - My favorite Ebeneezer Scrooge is Albert Finney. After seeing this lovely production, I would list Campbell Scott as a close second. It has been rumored that the show will be returning again next year. If you happen to find yourself in New York in December 2020, I highly suggest you don't miss it.
Kinky Boots - O.K. I have to cheat a little with this pick. The truth is I didn't actually see a live production of this show. Thankfully there is this little thing called PBS, that broadcasts Broadway and West End shows. This was the London production, and it was fantastic. It actually made me wish that I had seen the Tony Award Broadway production.
Mamma Mia - Now I know what you're thinking. Didn't Mamma Mia close on Broadway four and a half years ago? Yes it did. This production was a little east of New York City. Paris, Illinois to be exact. Also known as my hometown. Now the truth is, I avoided the show during it's fourteen year run. Trust me. I had my reasons. Who would have thought that a production directed by my best friend would make me fall in love with it?
A Musical About Star Wars - I love Star Wars. And guess what? I loved this too. A must see for any Star Wars fan.
So there you have it. My "Top 10" theater picks of 2019. Wait a minute. Not so fast. If you do a quick count, I only listed nine shows. What can I say? I had other things going on I guess. Or maybe there were only nine shows that I enjoyed. I guess you'll never know. Until next time theatre fans.
JWB
Applause Theatre and Entertainment Service, Inc.
165 West 46th Street
Suite 1107
New York, NY 10036
212-307-7050
or 1-800-451-9930
http://www.applause-tickets.com/
Facebook:
Applause Theater and Entertainment Service