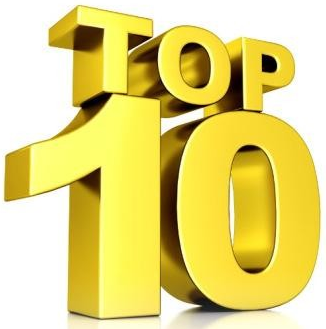 Where oh where has the time gone? Can you believe that the year is almost over? I sure can't. Which brings me to today's blog. Every year, numerous publications like Time Magazine and the New York Times publish their year end lists of their favorite theatre shows.
Therefore, I figured I would share with you my favorite productions from this year. Also note that this list is not limited to only shows that opened this year, but simply a list of ones that I have seen in 2017. Enjoy!
1.)
Avenue Q
-. An oldie, but a goodie. Winner of the 2003 Tony Award for Best Musical of the Year, Avenue Q remains one of the funniest shows in town.
2.) Oslo- Winner of the 2018 Tony Award for Best Play of the Year, unfortunately only played for a limited run. I for one am glad I got to see it before it was too late.
3.)
School of Rock
- After more than two years on Broadway, I finally got around to seeing it. All I can say is, "It was well worth the wait!"
4.) Cruel Intentions: The Musical- Now I know what you're thinking.They made a musical out of one of the 90's most classic films? You know what? It was a genius idea. The show is only playing thru January 29 so get your tickets now.
5.)
Beautiful-
Another long running musical that I had still never seen until now. Jukebox musicals have always been sort of hit or miss with me. I loved Jersey Boys. Mamma Mia? Not so much. How about Beautiful? I loved it. Enough said.
6.)
Waitress
- The movie is a favorite of mind. Hard to believe it's been ten years since this wonderful film captured the heart's of millions around the world. Thanks to it's writers and the rest of it's creative team, Waitress The Musical has continued to do the same eight times a week on Broadway.
7.)
Miss Saigon
- Growing up in Illinois, I wasn't exposed to a lot of theater except for the shows I starred in during high school. Thank goodness for my teachers who introduced me to shows like this one. Twenty-five years after seeing it for the first time, Miss Saigon still remains one of my favorite shows.
8.) A Doll's House Part 2- Now I 'll admit that I was a little hesitant about seeing the show. Not that I'm sure it wasn't going to be good. After all, it was starring Academy Award winner Chris Cooper, and Emmy Award winner Laurie Metcalf, who would go on to win a Tony Award for her performance. My concern was that I had never seen A Dolls House. Of course I worried for nothing. It was brilliant.
9.) Prince Of Broadway- Let's face it. Without Harold Prince, the Broadway landscape as we know it today would be very different. Harold Prince is what Broadway is all about. One of the most enjoyable evenings I have had in the theatre in a very long time.
10.)
Hamilton
- I know what you're thinking. The most successful musical of the past decade was your tenth favorite show of the year? No. I was simply just saving the best for last. Now nothing will ever top Rent as my favorite show of all time. But this one is a close second.
So there you have it. My top ten shows of 2017. How many have you seen? Oh and don't forget that Applause sells tickets for all of these shows. Well those that are still running of course. Live theatre. There is nothing like it. Until next time theatre fans.
JWB
Applause Theatre and Entertainment Service, Inc.
723 7th Avenue
Suite 902
New York, NY 10019
212-307-7050
or 1-800-451-9930
http://www.applause-tickets.com/
Facebook:
Applause Theater and Entertainment Service