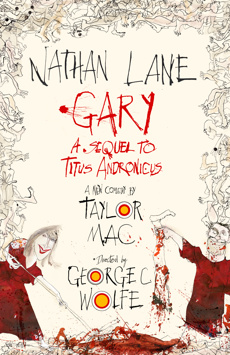 Well it sure has been a busy week on the Great White Way theatre fans. In the last week three shows opened, with three more set to open later this week. No surprise, as more shows open in March or April then in any other time of the year. Why you ask? It's simple. The closer your show opens to the Tony cutoff, the fresher you are in the minds of the Tony nominating community.
Now back to the reason for today's blog.
Gary: A Sequel To Titus Andronicus
, which opened last night at the Booth Theatre, stars three-time Tony Award winner Nathan Lane, Tony Award nominee Kristine Nielsen, and Tony Award winner Julie White, with direction by five-time Tony Award winner George C. Wolfe. So what did the critic's have to say? Let's find out.
am New York
Broadway News
Daily Beast
Daily News
Deadline
The Hollywood Reporter
Newsday
New York Magazine
New York Post
The New York Times
Time Out New York
Variety
JWB
Applause Theatre and Entertainment Service, Inc.
165 West 46th Street
Suite 1107
New York, NY 10036
212-307-7050
or 1-800-451-9930
http://www.applause-tickets.com/
Facebook:
Applause Theater and Entertainment Service