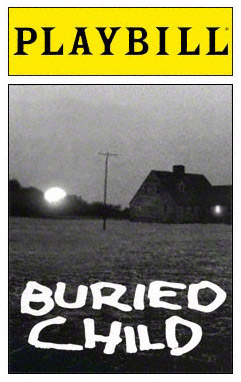 That's right theatre fans. Buried Child, the 1979 Pulitzer Prize winner for Best Drama, is headed to the London stage for the first time since it's premiere back in 1978. The show, which was written by Sam Shepard, is now playing at the Trafalgar Studios in London thru February 18, 2017. Not only that, but the show is starring husband and wife acting team Ed Harris and Amy Madigan.
So what is the show all about? Well according to the show's official website, Buried Child takes place in rural Illinois in 1979. As America is in the midst of a recession, as well as an ending presidential election, Dodge (Harris) and Halie (Madigan), are struggling to hang on to their land as their family unravels following an unexpected visit from their long-lost grandson Vince.
At first, no one recognizes him causing even further uncertainty as family secrets long hidden are soon revealed. Now that sounds like one gripping drama my friends. By the way for those of you who want tickets to see the show you are in luck. We sell them. In fact we sell every play and musical in
London.
Get your tickets to see Buried Child in London at Trafalgar Studios now thru February 18. Until next time theatre fans.
JWB
Applause Theatre and Entertainment Service, Inc.
723 7th Avenue
Suite 902
New York, NY 10019
212-307-7050
or 1-800-451-9930
http://www.applause-tickets.com/
Facebook:
Applause Theater and Entertainment Service