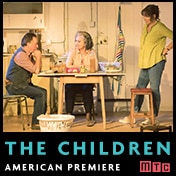 Fresh off a critically acclaimed run at the Royal Court Theatre in London is The Children. Written by award winning playwright Lucy Kirkwood, The Children takes place in a secluded cottage on the British coast, where a pair of introverted retired engineers reside. Suddenly the outside world experiences a series of devastating events, prompting an unexpected visit from a old friend. A visit that unbeknownst to them will have soon have a profound effect on their lives.
Now I'm not sure where the title comes into play, but I'm sold. The Children stars BAFTA Award winner Francesca Annis (BBC's Cranford), Olivier Award winner Deborah Findlay (Stanley), and Olivier nominee Ron Cook (Juno and the Paycock), with direction by award winner James Macdonald (Top Girls). Previews are set to begin at the Samuel J. Friedman Theatre on November 28, with opening night scheduled for December 14. Get your tickets to see The Children on Broadway at the Samuel J. Friedman Theatre. Until next time theatre fans.
JWB
Applause Theatre and Entertainment Service, Inc.
723 7th Avenue
Suite 902
New York, NY 10019
212-307-7050
or 1-800-451-9930
http://www.applause-tickets.com/
Facebook:
Applause Theater and Entertainment Service