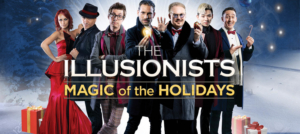 Heading back to the Great White Way for an unprecedented fifth time is The Illusionists. The show, which played it's first Broadway engagement in 2014, will begin performances at the Neil Simon Theatre on November 29, where it will play thru January 5, 2020.
Now while I was a huge magic fan growing up, I wasn't sure if I was going to like it when I saw it in 2016 at the Palace Theatre. Boy was I wrong. What a " Magical" night in the theatre. O.K. I know. That was super cheesy. What can I say? I loved it. Tickets for the 2019-2020 engagement are set to go on sale on August 19. Not only that, but we are selling it. Get your tickets to see The Illusionists on Broadway at the Neil Simon Theatre. Until next time magic fans.
JWB
Applause Theatre and Entertainment Service, Inc.
165 West 46th Street
Suite 1107
New York, NY 10036
212-307-7050
or 1-800-451-9930
http://www.applause-tickets.com/
Facebook:
Applause Theater and Entertainment Service