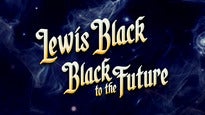 Like comedy? You'll have an opportunity to see comedian Lewis Black in his four show stint at the Marriott Marquis Theatre on Broadway. On nights when the popular show On Your Feet has its regular Monday evening off, Lewis Black will bring his touring comedy show called Lewis Black: Black To The Future to Broadway. His shows will play on September 12, 19, 26 and October 10, 2016. Tickets for the shows are selling quickly as Mr. Black obviously has a substantial fan base for sure.
Lewis Black is 67 years old. He is an outstanding stand-up comedian, playwright, author and actor who is most known for his "angry face" as well as his boisterous comedic style, often displaying what it might be like to be having a mental breakdown.
Lewis Black has performed in Comedy Central's Lewis Black's Roots Of All Evil. Many famous comedians are said to have been a great influence to him in his career including George Carlin, Bob Newhart, Richard Pryor, Lenny Bruce and Shelly Berman.
If you're interested in a fun night of outrageous comedy in New York City, consider a call to
Applause-Tickets
at 212-307-7050 or 800-451-9930 to purchase Lewis Black tickets. We're open 24/7 to assist you. Tickets are very reasonably priced.
Regards
Rich Gladstone
President
Applause-Tickets
723 7th Avenue, Suite 902
NY NY 10019
Phone 212-307-7050 or 800-451-9930
On Facebook at
Applause Theatre & Entertainment Service Inc.