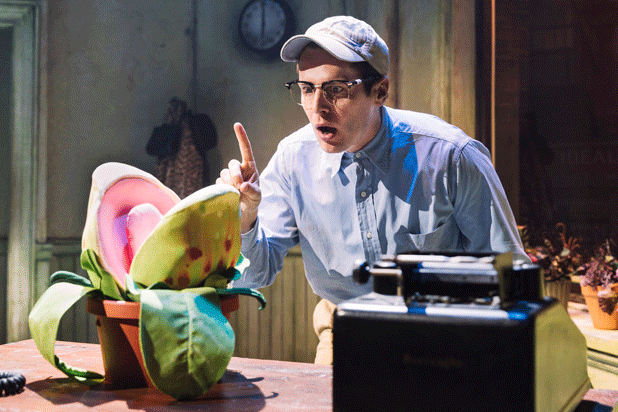 That's right theatre fans. It's that time again. Time to celebrate another show opening in NYC. Only this time, it's not a Broadway show. Although with the folks involved, it sure feels like one. Last night, Little Shop of Horrors opened Off-Broadway at the Westside Arts Theatre.
The theatre, which only holds two hundred and seventy seats, is only blocks away from the Broadway district, where the show made it's Broadway debut in 2003 at the August Wilson Theatre. That production starred Hunter Foster and Kerry Butler.
Directed by Tony Award winner Michael Mayer (Spring Awakening, Hedwig and the Angry Inch), and featuring music by Tony and Academy Award winner, and book and lyrics by Academy Award winner Howard Ashman, Little Shop of Horrors stars Tony Award nominee's Jonathan Groff and Tammy Blanchard as co-workers Seymour and Audrey, and two-time Tony Award winner Christian Borle as Orin. Starring along side the trio are Tom Alan Robbins, Kingsley Leggs, Ari Groover, Salome Smith, Joy Woods, Stephen Berger, Chris Dwan, Kris Roberts, Chelsea Turbin, Eric Wright, and Teddy Youdain. So what did the critic's have to say? Let's find out.
Now that is what I call some great reviews. Tickets for the limited production have been flying out the door ever since they went on sale. Now that doesn't mean you can't get tickets. It just means you may have to spend a little more to get them. Also be advised, tickets are only on sale thru January 19,2020. Here's hoping the show extends. Fingers crossed. Get your tickets to see Little Shop of Horrors Off-Broadway at the Westside Arts Theatre. Until next time theatre fans.